---
Home Page
Products
Documentation
CAD Support
Download
Purchase, Price list
Contact us
Support
---
---
11/15/2020
Released MITCalc 1.76
05/27/2019
Released MITCalc 1.75
08/30/2018
Released MITCalc 1.74
07/10/2017
Released MITCalc 1.73
04/01/2016
Released MITCalc 1.72
08/29/2014
Released MITCalc 1.70a
01/21/2014
Released MITCalc 1.70


Products > Straight beams calculation
The application is designed for calculations of straight, maximum three times static indefinite beams with constant axis-symmetrical profiles. The software solves the following tasks:
Simple definition of the type of beam and its loading with visual check.
Calculation of area characteristics of 20 types of cross sections.
Calculation of reactions in supports.
Calculation of minimum / maximum bending moment, stress and deflection of the beam.
Calculation and graphic illustration of the moment, stress, deflection and bending angle of the loaded beam.
The application includes a table of materials and a table of area characteristics of W, S, C, L profiles acc. to ANSI/AISC and I, U, L a T profiles acc. to DIN/ISO.
The calculation is based on data,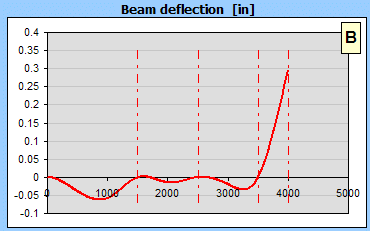 procedures, algorithms and data from specialized literature and AGMA, ISO, DIN and BS standards.
List of standards (DIN 1025, 1026, 1028, 1029, 1024, AISC W, AISC S, AISC C,
AISC L, AISC LU ... )

---