MITCalc - Version 1.20 released
Decin, Czech Republic, 04/11/2005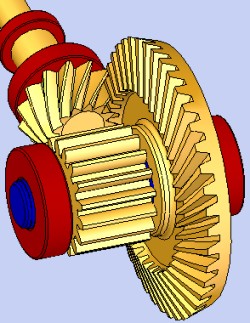 The new version of MITCalc engineering calculations has been extended by new calculation modules:
Bevel gear (straight, oblique and curved teeth)
Solutions of geometric and strength parameters of conical gearing with straight, oblique and curved teeth. Based on power requirements and operational and production parameters, you can carry out the design of an optimised solution in minutes. The calculation is given in imperial and SI units, according to the standards DIN, ISO, ANSI and AGMA (More info...).
Rolling bearings I (SKF)
The module is designed for the design, selection and control of rolling bearings. In addition to the calculation of basic parameters (life, static safety, etc.) the program enables a solution of a modified life according to ISO and calculates loading of pairs of tapered roller bearings (bearings with oblique contacts). The module includes a database of more than 10,000 SKF bearings (More info...).
Both new modules enable outputs to all supported 2D and 3D CAD systems.
Other extensions relating to a major part of the existing calculations.
Recording of tables – The selected calculations enable entering of results into the selected 2D CAD system in the form of a table.
Description of parts, BOM – Most calculations enable entering of a shortened three-row description (name, dimension, standard) into the 2D CAD system. This description can also be used as data for a BOM for the selected 3D CAD system.
Support of external language files (preparation for translations into other languages).
Minor changes and bug fixes.
Change to structure of the delivered calculations and packages:
Within the simplification of the installation, the calculations are now available in the form of an installation file that also includes a connection to the selected 3D CAD system (e.g. "MITCalc for SolidWorks").
New version of MITCalc is available for download here.
About MITCalc
MITCalc is a multi-language mechanical and technical calculation package. It includes solutions for gear, belt and chain drives, bearings, springs, bearings, beam, shaft, bolt connection, shaft connection, tolerances and many other mechanical parts. The calculations are compatible with most types of 2D (AutoCAD®, AutoCAD LT®, IntelliCAD®, Ashlar Graphite®, TurboCAD®) and 3D (Autodesk Inventor®, SolidWorks®) CAD systems, support both Imperial and Metric units, and are processed according to ANSI, ISO, DIN, BS, Japanese and other common standards.
© Copyright 2005, All rights reserved.